Drama as Rivers' most wanted kidnapper, Bobisky, dies after arrest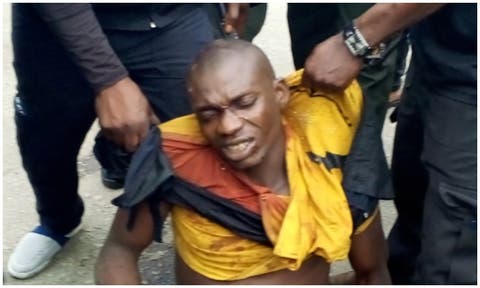 There was jubilation on Saturday on Moscow Road, Port Harcourt, headquarters of the Rivers State Police Command, as officers arrested a most wanted kidnapper, Honest Digbara, popularly called Bobisky.
Bobisky was arrested alive in the early hours of Saturday (about 2am) in Korokoro, Tai Local Government Area of the state in a joint operation led by the Divisional Police Officer of Bori, Superintendent Bako Angbanshim.
Bobisky, a native of Nwenbiara, was said to be attending a funeral when policemen and operatives of a local vigilance group known as Tai Spac stormed the area.
But on sighting them, he opened fire leading to a gun battle during which his younger brother, said to be the driver, was killed on the spot.
The state Commissioner of Police, Joseph Mukan, paraded the remains of Bobisky and his younger brother before journalists at the command on Saturday.
Though he was nabbed alive and brought to the command, he reportedly died due to gunshot injuries he sustained during the crossfire.
Bobisky, terrorised the four local government areas that make up Ogoniland: Gokana, Khana, Tai and Eleme, making life unbearable for locals in the areas.
There was drama, however, at the police command where he was paraded. When journalists arrived at the command, policemen tried to get some information from him such as his real name which he gave as Honest Digbara in a low tone after several efforts by the operatives.
While he talked, he battled with the gunshot wounds and machete injuries on him. He also answered a question about his marital status that he had a wife who is pregnant.
Minutes later, he demanded water to drink and was obliged. But he was too weak to drink as he fell to a corner, saying, "I want to die.''
He then briefly looked in the direction of his younger brother lying lifeless beside him. He then hugged his remains, rolled sideways with eyes upwards and breathed his last to the surprise of journalists and cops.
Soon afterwards, the state Commissioner of Police, Joseph Mukan, told journalists that the police had been on Bobisky's trail since Governor Nyesom Wike placed a bounty of N30m on his head.
Mukan said, "The notorious gang leader who had been on the police watch list and declared wanted by the state government with a bounty of N30m was arrested at the early hours of today, September 12, 2020 in a sting operation of the command with the assistance of a local security outfit.
"He was arrested through credible information at Korokoro Community in Tai LGA, where he was hibernating with his gang of killers. On sighting the police, they engaged us and in a return fire, his driver was fatally wounded, while he was arrested alive.
"Among the dastardly acts carried out by the gang, include: the kidnap of Barrister Emelogu who was killed after collecting ransom; the kidnap and killing of the DCO (Divisional Crime Officer) in Afam, Oyigbo lga, SP Moses Egbede, after collecting ransom; the killing of a soldier and an official of the Nigeria Security and Civil Defence Corps at Gio pipeline, Ogoni, last year; the kidnap of Chief Mbu of Ogu/Bolo who they kidnapped and collected a ransom of N7m and the killing of two police officers attached to the Federal Highway. They were killed and their rifles taken at Botem, Khan LGA, Rivers State."
The CP warned criminals to "repent or relocate from the state or face the full weight of the law," saying the arrest of Bobisky was a milestone for the command and victory for the Ogoni people, Rivers and Nigeria at large.''
PUNCH