Chemical kills three timber operators in Ondo forest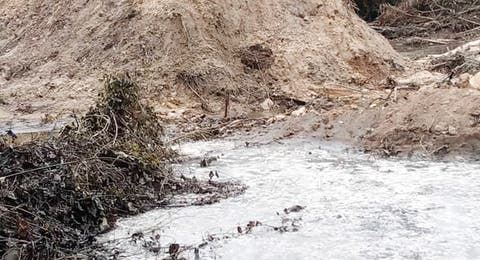 Three people have been killed by toxic waste in Omotosho town, in the Okitipupa Local Government Area of Ondo State.
The deceased, Monday Akinmusire, 35; Samuel Louis, 45; and Ododolewa Adebowale 19; were working in a forest when the incident happened.
It was alleged that the waste was dumped in the community by a Chinese company.
According to a source, the deceased went to the forest reserve on a motorcycle last Wednesday to fell trees for their timber business.
The source said Louis was the main operator, adding that he hired Akinmusire and Adebowale to cut the trees for him.
It was learnt that the three victims, however, never made it back alive, as their corpses were found beside the motorcycle.
Their bodies were reportedly covered with waste product from the disposal site of the company.
An uncle of the late Akinmusire, Mr Taiwo Ikuemenisan, said the deceased were thought to have got missing until their bodies were found after 24 hours at the forest by a search party which comprised security agents and local vigilantes.
He stated, "The remains of the deceased have been deposited at Gloryfield Mortuary in Ore and the case has been reported to the police in Igbotako."
In their reactions, Mr J.I. Adeyanju and Mr Dayo Akindejoye, who are the family lawyers of Akinmusire, described the incident as sad.
In a statement they jointly signed, the lawyers said it was irresponsible for the Chinese company to dump harmful waste in the forest.
The statement said, "Wewood Company deposited its waste that led to the untimely death of the younger brother of our client, Mr Monday Akinmusire, and two others after inhaling the hazardous substances.
"Evidently, the company flagrantly violated the provisions of the enabling laws with impunity, which is detrimental to the host community, without adherence to environmental safety and international best practices.
"The Environmental Impact Assessment Act, National Environmental Standards and Regulations Enforcement Agency (Establishment) Act, and the Harmful Waste (Special Criminal Provision) Act, spell out guidelines for dumping of hazardous substances, which were clearly violated.
"The National Environmental Standards and Regulations Enforcement Agency (Establishment) Act specifically prohibits discharge of harmful quantities of any hazardous substance into the air or upon land and waters of Nigeria or at the adjoining shorelines."
The state Police Public Relations Officer, Mr Teo-Leo Ikoro, confirmed the incident, adding that it was an accident.
He said, "There is a company producing ethanol in the area, and it was an accident as a result of waste from the company.
"The bodies of the victims have been deposited in a morgue. The company and the families of the victims are already talking and making arrangements on the matter."
PUNCH.