Arotile hit by ex-classmate's car, says NAF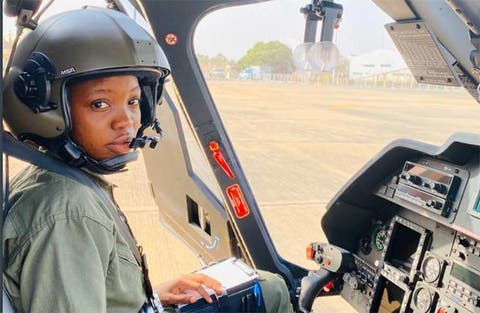 • Buhari, Lawan, others mourn
More details have emerged on the demise of Nigeria's first female combat pilot, Flying Officer Tolulope Arotile.
Arotile died at the Nigerian Air Force base in Kaduna on Tuesday. She died less than a year after she was decorated as the first female combatant helicopter pilot.
The 24-year-old from Kogi State was said to have been hit by a car driven by a former classmate who wanted to greet her.
The Director of Public Relations and Information, Nigerian Air Force, Air Com. Ibikunle Daramola, revealed this in a statement in Abuja on Wednesday.
He stated, "Flying Officer Arotile died on July 14, 2020 at the age of 24, when she was inadvertently hit by the reversing vehicle of an excited former classmate at the Air Force Secondary School while trying to greet her.
"Before her untimely death, Flying Officer Arotile made significant and outstanding contributions to the war against terrorism, banditry and other forms of criminality in the country, flying several combat missions."
It was learnt that the unnamed ex-classmate has been detained following the death of the combat helicopter pilot.
The Chief of Air Staff, Air Marshal Sadique Abubakar, while condoling with her family and Nigeria, said Arotile would be missed.
Meanwhile, the President, Manor General Muhammadu Buhari (retd.), on Wednesday said he received the news of the death of Arotile, with "deep pain."
In a statement by his Special Adviser on Media and Publicity, Femi Adesina, titled, 'President Buhari mourns first female combat helicopter pilot, Tolulope Arotile,' the President said the late pilot's short stay on earth impacted greatly on the nation.More in Home
The statement read in part, "The President salutes Arotile's bravery in the field to protect the country from onslaught of bandits and terrorists, assuring that her memory will be indelible, and her efforts remembered.
"The President sympathises with government and people of Kogi State on the loss."
In the same vein, the President's wife, Aisha Buhari, on Wednesday joined others Nigerians to mourn Arotile.
Mrs Buhari, on her social media platform, wrote, "The deceased was an intelligent young woman, a huge potential, a representative of both Nigerian women and youths, and what they could achieve."
Also, the President of the Senate, Ahmad Lawan, in a statement by his Special Adviser on Media and Publicity, Ola Awoniyi, expressed sadness over Arotile's demise
The Senate President said Arotile was a role model for young women and Nigerian youths in general with her focus and dedication to service and calling.
Similarly, the House of Representatives Speaker, Femi Gbajabiamila, in a post on his social media accounts on Wednesday, wrote, "I saw her months ago display her talent to the admiration of many of us at a Nigerian Air Force event. Indeed, we have lost a great talent."
The Chairman of the House Committee on Defence, Mr Babajimi Benson, also described Arotile as brilliant.
Also, the governor of her home state, Alhaji Yahaya Bello, in a  condolence message signed by his Chief Press Secretary, Onogwu Muhammed, described Arotile as not only a combat pilot but a fantastic aviator who reached the sky in her professional calling at a tender age.
"We are devastated by the tragic death of this young promising lady who took bravery to the next level," the governor said.
PUNCH