Fayose can't stop Makinde from coming to Ekiti – Olujimi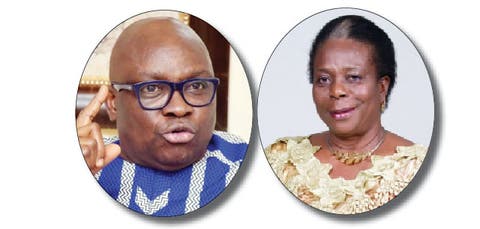 A factional leader of the Ekiti State Chapter of the Peoples Democratic Party, Senator Biodun Olujimi, on Thursday dismissed warnings by a former governor of the state, Ayo Fayose to the Oyo State governor, Seyi Makinde, as an "empty threat."
Olujimi, said the Oyo State governor was welcome to visit Ekiti State to assist in the party's reconciliation efforts at any time he deemed fit.
She spoke in response to Fayose's admonition to Makinde urging him to steer clear of the party's affairs in Ekiti State.
Olujimi spoke at Omuo Ekiti while donating empowerment materials to her constituents in the Ekiti South Senatorial District.
The federal lawmaker said, "Governor Seyi Makinde is welcome in Ekiti anytime. He should even come now so that we can celebrate him. Fayose's comment was just an empty threat.
"We say unequivocally that governor Makinde is the PDP leader of the zone. Why should the party allow Fayose to conduct the congresses without following due process? We will resist a man who contributed to the failure of our party in Ekiti and the zone. We are resolute to rescue the party."